Are you looking for the best budgie cage? The best cage for your birds is the cage that will give them sufficient room to fly around comfortably while keeping them safe.
A good budgie cage should allow you to clean up waste and debris with minimal intervention. It should also provide stations (and doors) for food and water.
A cage will usually come with perches, but other accessories (toys, decorations) must be bought separately.
Take a look at the list below and discover some of the best budgie cages on the market.
Which Brand of Budgie Cage is best?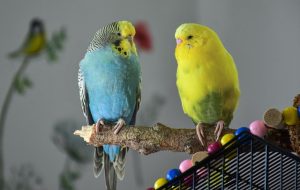 The best budgie cage is the cage that provides the birds with sufficient room to play, move around and live in a safe environment.
Thus, the cage should be large enough to accommodate your birds, resilient enough to stand still when they flap their wings, and easy enough to clean.
These should be three of the most important characteristics to look for when shopping for a budgie cage.
Don't hesitate to invest a bit more in a budgie cage since it's something you won't replace anytime soon and could accommodate a growing budgie family if this is something you consider.
However, in our research, we find Vision M02 bird cage is top on our list because it is made out of high-quality wire & large enough to accommodate and for its overall performance.
Comparison Table Of Beautiful Budgie Cage
| Image | Brand | Dimensions | Weight | Bar Space | Price |
| --- | --- | --- | --- | --- | --- |
| | Vision | 24 x 15 x 34.5 inches | 5.55 Kgs | 0.38 inch | |
| | Prevue Hendryx | 37 x 23 x 60 inches | 42 Pounds | 0.5-inch | |
| | Yaheetech | 63.98 x 18.11 x 13.78 inches | 14.22 Pounds | 0.4 inch | |
| | Prevue Hendryx | 30 x 18 x 18 inches | 9 Pounds | 0.38 inch | |
| | SUPER DEAL | 16.9 x 51.2 x 23.6 inches | 30.3 pounds | 0.5 inch | |
| | Vision | 17 x 31 x 22 inches | 15.3 Pounds | 0.81 inches | |
| | Yaheetech | 18.11 x 13.98 x 62.4 inches | 10.58 Pounds | 10 Millimeters | |
| | Best Choice Products | 18 x 14 x 36 inches | 11 Pounds | 0.4 inch | |
| | Yaheetech | 37.6 x 18 x 41.5 inches | 40.3 Pounds | 0.4 inch | |
| | Topeakmart | 18.11 x 13.98 x 36.22 inches | 9.7 Pounds | 0.4 inch | |
Why is Vision M02 Best Brand For Budgie Cage?
The Vision M02 can be the best budgie cage due to its generous size and convenience regarding cleaning.
Budgies can make quite a mess, especially when feeding. Their favorite food is millet, meaning many shellings end up all over the place.
This cage features a waste shield, besides being equipped with a tray for debris at the bottom.
The shield keeps waste and shellings off your room's floor. At the same time, cleaning becomes easy and comfortable.
What is The Perfect Budgie Cage Size?
The cage size should be proportional to the number of budgies you own. If there is more birds, then the cage should be bigger.
The best budgie cage size will encourage all birds to exercise by providing sufficient room for them to jump around and even fly a little.
Even if you just own a pair of budgies at the moment, getting a bigger one is a must if you plan on breeding them. Budgie babies tend to grow rather fast and will soon join their parents in the cage.
The 13 Best Budgie Cages on The Market – Full Guide
01. Vision M02
Highlighted Features
Dimensions: 24 x 15 x 34.5 inches
Weight: 5.55 Kilograms
Bar spacing: 0.38 inch
Birdcage made out of wire suitable for small bird species
Exterior access to feeders and water cups for non-invasive interventions
It is equipped with essential accessories, such as four perches
A good bird cage should allow the birds to spread their wings comfortably and even offer them the ability to fly a little.
This birdcage from Vision, made out of high-quality wire, is large enough to accommodate small bird species, such as finches, canaries, and small parakeets.
With the help of this cage, cleaning and feeding the birds won't be an issue any longer.
Offering food and water to the birds can be done conveniently and without causing too much disturbance.
The water cups and feeders can be accessed from outside the cage, making these operations simple.
The same goes for removing waste. The bottom part is protected with wires and can be detached from the cage for easy cleaning.
The birds won't be disturbed and the cage can be cleaned fast and simple. Also, a waste shield will prevent waste and bird food from getting on the floor.
Pros
The assembly of the cage is easy (instructions are provided)
A generous cage that provides lots of space for the birds
Easy to clean and maintain, with no mess around the cage
Cons
Not the best customer service for the product
02. Prevue Hendryx
Highlighted Features
Dimensions: 37 x 23 x 60 inches
Weight: 42 Pounds
Made out of Alloy Steel & Plastic
0.5-inch bar spacing
Features accessories like 3 wood perches and 4 plastic cups for food
It features a grille at the bottom, suitable for food boxes and other needed accessories
What's the best thing when having birds as pets? There's nothing better than seeing them play, fly around and chirp in contentment.
All of these are possible when the birds enjoy plenty of room, which can be possible with a large flight cage.
This birdcage from Prevue is ideal for all kinds of small birds.
Because it is taller than being wide, the product is a good choice for small birds and not larger ones, which need wider cages to accommodate their wings.
This product is a good option for those with more than two birds or those that wish to breed or purchase more birds, as it is quite large.
Cleaning the cage and feeding the birds can be done conveniently. Just make sure to check the cage once installed, ruling out the possibility of sharp burrs.
Pros
The large cage allows the birds to fly, jump, and play
Good quality for the price tag
Sturdy and easy to clean
Cons
Watch for sharp burrs when assembling the cage, as they could cause injuries to small birds
03. Yaheetech 64'' H
Highlighted Features
Dimensions: 63.98 x 18.11 x 13.78 inches
Weight: 14.22 Pounds
Bar spacing: 0.4 inch
The base of the case is made out of Painted Iron & plastic
The upper part of the cage can be opened, allowing the birds to roam free
Bird enthusiasts who are looking for an elegant birdcage might find the ideal choice in this product.
Of medium size, this cage is still large enough for small bird species. It can easily house two to four birds, even more, based on their size.
Covered with rust-resistant paint, the cage's metal parts are easy to clean and will look just as good over time.
At the bottom is a tray made out of plastic, protected by a metal grille. This tray can be removed and cleaned without issues.
This birdcage also features plastic cups for bird food, sanded wood perches, and a mobile stand. The stand can be detached from the cage if the user desires to.
Pros
Great bird cage for small birds
Secure enough, not allowing the birds to escape, no matter how hard they try opening the doors
The stand can be removed when and if desired
Cons
The cage can be quite difficult to assembly
04. Prevue Hendryx
Highlighted Features
Dimensions: 30 x 18 x 18 inches
Weight: 9 Pounds
Bar spacing: 0.38 inch
Made out of Alloy Steel
The included accessories are two plastic cups and two wood perches
The cage features one large main door and two small doors for the feeding plastic cups
There is a side panel for a nest box if the case
If most bird cages presented in the list were taller than wider, this one offers more flight room since it has a more generous width.
Still, it is not a very large birdcage, so it can only accommodate two birds while providing sufficient room to fly and move around quickly.
Equipped with four access ways, the birds will easily find their way back into the cage if they are left to fly free throughout the room.
The waste tray is also a plus since it is rather resilient and deep enough to get a good amount of waste before being cleaned.
A minor inconvenience may be the location of the food cups. Since they are located close to the cage's base, it conditions how the wood perches are installed.
Also, the bird owner should position the perches right. Otherwise, the birds will get waste into their food.
Pros
It comfortably accommodates a pair of small birds
Four doors allow easy access for the birds into the cage
Sturdy and easy to remove the tray for waste and debris
Cons
The construction of the cage is not that sturdy
05. SUPER DEAL 53-Inch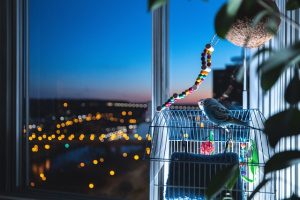 Highlighted Features
Dimensions: 16.9 x 51.2 x 23.6 inches
Weight: 30.3 pounds
Bar spacing: 0.5 inch
Made out of wrought iron, this cage for birds and small animals is sturdy and durable
The cage includes 2 perches and 4 cups of food and water
Feeding can be done by accessing four different doors
A good-looking birdcage, this product is not just lovely to see but also lovely to use. The cage is well-structured, so the space inside is used to its full potential.
After all, the goal of a birdcage is to give our feathered friends an excellent living environment. At the same time, the cage is sturdy enough, not wobbling when in use.
Even if the iron bars are slightly flexible, they are resilient enough not to be bent by the birds.
This is important since they can get their heads stuck in their attempt to escape the cage.
Another advantage is that the cage can be put together fast and efficiently. Everything required for the task arrives in the package, together with a set of instructions.
Pros
The design of the cage maximizes the living space of the birds
The sturdy structure provides stable support without wobbling, even when the birds play
Assembling the birdcage is an easy task
Cons
The grill placed above the litter tray is rather large and the birds may get their feet stuck in there
Confused about finding out the gender of Parakeets? This article can be a good help.
06. Vision L01
Highlighted Features
Dimensions: 17 x 31 x 22 inches
Weight: 15.3 Pounds
Bar spacing: 0.81 inches
A birdcage made out of Terracotta
Access to food and water cups can be made from the exterior for minimizing stress
It comes with accessories included, such as feeders and water cups, and perches
A birdcage that can be enough for one or two birds of small sizes, such as a budgie, finch, or parrotlet.
The design of this cage is longer than taller, which allows a good amount of room for flying and playing.
Getting the cage installed shouldn't take too long if instructions are respected. Paying attention to parts also helps since every part will go to its rightful place.
Also, caution is required when parts come together, as the user must make sure they all snap into place as they should. This will prevent the cage from falling apart.
When cleaning is required, the bottom is made to be removed. Thus, cleaning and disinfecting the cage can be done without disturbing the birds.
Pros
The debris guard keeps things neat around the cage
Good-looking birdcage with nice finishes and design
Adequate size for one or two small birds
Cons
The bottom part is not that easy to remove when it needs cleaning
07. Yaheetech 62.4"
Highlighted Features
Dimensions: 18.11 x 13.98 x 62.4 inches
Weight: 10.58 Pounds
Bar spacing: 10 Millimeters
An elegant finish is used on the metal body of the cage
A tall bird cage that can provide plenty of room for small birds to play and exercise
Two large doors allow for easy access to the birds inside the cage
A mobile stand comes with a cage, which offers extra storage space as well
A roomy birdcage is a must-have for every bird owner. This product can offer plenty of space at a more than a reasonable price tag.
The cage looks nice, has beautiful finishes and a practical stang, with a storage grill underneath.
Besides food and water cups and perches, this cage also comes along with several toys for the entertainment of the birds.
At the bottom, the cage features a plastic tray, which can be removed and cleaned. Installation should not take long due to the significant parts of the cage.
However, checking the cage for sharp edges and wires is highly recommended. They can represent a danger for small birds that can fly back to the cage.
Pros
A beautiful cage with plenty of room for the birds to enjoy
Assembling the cage is an easy task
The product comes with several toys for the birds as well
Cons
Keep a close eye on sharp edges when installing the cage to avoid injury to the birds
08. Best Choice Products
Highlighted Features
Dimensions: 18 x 14 x 36 inches
Weight: 11 Pounds
Bar spacing: 0.4 inch
Made out of Iron & plastic
The cage is shipped together with several toys for the birds
Four small doors allow quick access to food and water cups
For the price tag, bird owners get a birdcage that offers generous space inside for the birds. Since it is a tall cage, the birds can play on different levels.
The product even comes with several toys for the entertainment of the birds. The debris tray can be removed easily and food cups can be accessed from the outside.
However, getting the hands inside the cage is not easy, since the doors are quite small.
Thus, it may be tricky to install new accessories inside the cage. Also, it is advisable to inspect the cage once you're done assembling it.
Make sure there are no dangerous gaps in between parts or edges that may be sharp for the birds. Due to the small size of the birds, these insignificant details can hurt them.
Pros
A lot of space for the birds to fly and play
The price tag is accessible
Good quality product
Cons
Once installed, pay attention to design defects, such as holes; small birds can accidentally break their legs if small holes remain after parts are attached
09. Yaheetech 41.5″
Highlighted Features
Dimensions: 37.6 x 18 x 41.5 inches
Weight: 40.3 Pounds
Bar spacing: 0.4 inch
Made out of Metal
A birdcage that is ideal for breeding purposes
The product's size is suitable for birds of small sizes
The finishing of the metal is waterproof, making cleaning an easy task
When birds are looking to breed, they require some private space where the pair can set its nest.
It is safer this way so that the nest doesn't get destroyed by other birds or the pair doesn't feel threatened by others.
This birdcage is ideal for those looking to breed their birds. Providing two compartments in one single cage, it is possible to have two pairs of birds at once.
With the help of a removable tray, cleaning can be done fast and easily. Access to feeding cups is done from the outside as well, so stress on the birds will be kept to a minimum.
The space within each section of the cage is quite generous, meaning the birds can enjoy exercising if they wish.
Shipped with a rolling stand, the cage can be easily moved, while bird food and other accessories can be stored beneath the stand.
Pros
Sturdy great with great compartment for birds
Stable and resilient design and materials
The assembly of the product is easy, with the help of instructions
Cons
It is not suitable for bigger birds since they can bend the wires of the cage
10. Topeakmart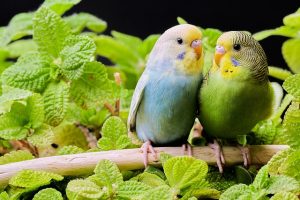 Highlighted Features
Dimensions: 18.11 x 13.98 x 36.22 inches
Weight: 9.7 Pounds
Bar spacing: 0.4 inch
Made out of Painted Iron & plastic
The cage provides 4 covered food cups, 4 sanded wood perches, and a swing
The entire body of the cage is rust-resistant
Finding a good-looking, roomy, and affordable cage for small birds is great. It is even better when such a product comes at an accessible price tag.
With an excellent design and resilient, waterproof finishes, this birdcage is meant to last very long.
Cleaning can be done conveniently since the cage can be washed and the waste tray at the bottom can be removed.
The bottom of the cage is also protected by a grill, so the birds won't end up walking in their waste.
What is special about this cage is the possibility of opening up the top and installing a perch.
Birds that enjoy a bit more freedom will love this area since they'll have a high area from where they can watch the surroundings without being too far away from food, water, and shelter.
Pros
Great value for the price tag
The birds will enjoy the extra space, including sitting on the porch at the top
It offers a multitude of access ways in and out of the cage
Cons
The doors giving access to the food cups don't operate too smoothly, so closing them up may startle the birds
11. Yaheetech 69-Inch
Highlighted Features
Dimensions: 31.9 x 18.3 x 69 inches
Weight: 47.7 Pounds
Bar spacing: 0.4 inch
Made out of Metal
The cage arrives with a set of toys specially designed for birds
Two large doors allow easy access to the cage and convenient cleaning
If you have room for a large birdcage, this product can provide a more than generous living space for your birds.
The birds will enjoy their new home with plenty of room to play and fly.
One thing to consider though is that the birds might get out through the large front doors when the cage is cleaned or food provided.
Thus, it's worth paying attention when operating these doors, as they don't close on themselves either and will need manual closing after work is done inside the cage.
Other than this, the product offers great value for the price tag. It is shipped together with a mobile stand, which is equipped with 360-degree rollers, and several toys for the birds.
Pros
Extremely large cage with plenty of space for birds
The assembly and use of the cage are very easy
Great value for the spent money
Cons
Pay attention to the two large front doors, as they don't close on their own and the birds can get out
12. BestPet
Highlighted Features
Dimensions: 16.9 x 15.7 x 64 inches
Weight: 13 Pounds
Bar spacing: 0.4 inch
Made out of Wood & Iron
The cage is available with a mobile stand, which ensures increased mobility
Two large front doors enable easy access into the cage
Removable tray and grate for convenient cleaning and maintenance
Large bird cages can be difficult to accommodate inside a home, but this product has a rather slim design.
It is taller without being too wide, which makes it easier to install in a room. Also, the cage can be moved around, even with the birds inside due to its mobile stand.
The rotating rollers will allow a smooth transition throughout the room.
Two large doors allow convenient access into the cage, while cleaning can also be done by removing the bottom tray or the entire bottom when needed.
In case the birds are used to flying freely around the house, more freedom can be provided by opening the top of the cage. It is even possible to place a perch at the top for the enjoyment of the birds.
Pros
Assembling the cage is a breeze
The birds will enjoy all the extra space provided by this product
More than enough space for toys and accessories
Cons
The two large front doors can offer the birds a way out when they are opened for cleaning operations, so caution is needed
13. Prevue Hendryx SP1720-4 s
Highlighted Features
Dimensions: 13.5 x 11 x 22 inches
Weight: 5.82 pounds
Bar spacing: 0.43 Inches
Made out of powder-coated steel with plastic
The materials used for this cage are non-toxic and safe for birds
The bottom tray can be slide out for easy cleaning
The entire bottom part can be removed if and when needed
The design of this cage will certainly catch one's eye since it looks like a miniature parakeet mansion.
The colors are light and the details are very nice. Two access doors allow the user to gain easy access inside the cage and will allow the birds to get in and out of the cage without problems.
Still, if you don't want to see the birds flying around the house, it is advisable to secure the doors somehow since they are easy to open.
This includes the small doors for accessing the food cups. Budgies are pretty intelligent and will figure out how to open these as well if they aren't secured.
The small size of the cage makes it a good option when looking for ways to transport birds. In the long term, the provided living space may not be that great for more than one bird.
The cage is nice, but there isn't much exercise space.
Pros
The cage is suitable for a pair of budgies and other species of small birds
Easy to carry around, so it may be a good option for transportation
Beautiful design
Cons
In the long term, this cage can turn out to be relatively small and the plastic cups for water and food are not the best
Facts To Choose Budgie Cage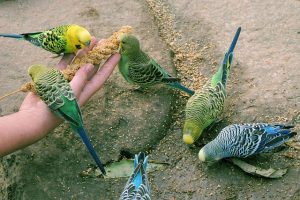 How Many Birds Do You Want To Accommodate?
The first thing to consider when shopping for a birdcage is the number of birds you have or wish to have.
This way, you ensure the cage will be large enough to give the birds a good quality living space.
Apply the same rule if you want to buy more birds or plan to breed your existing pair. A growing family of birds will require more space.
In this situation, consider investing in a birdcage that is large enough to suit their needs in the future as well.
Would You Like a Stand For The Cage?
Some bird cages, especially large ones, can be available with a mobile stand. This can turn out to be very practical since it is possible to move the cage with minimum effort.
Also, the stand usually features a rack, which can be used as storage space for bird food, supplements, snacks, and other accessories.
When looking to buy a larger cage, see if the stand with rollers is included or has to be ordered as an extra option.
There are cases in which the stand is not shipped since it is sold as an optional, so you may not have a stand for the purchased cage.
Would You Like a Separate Door For The Nest Box?
Most bird cages don't provide a separate door for the nest box. Thus, if you plan on breeding your birds, adding a nest box inside the cage will mean less space for the birds.
Also, it can be disturbing for the birds to check the nest box inside the cage.
If you plan to have baby birds, it may be advisable to look for a cage suitable for adding nest boxes outside the cage.
Is a Debris Guard an Important Feature?
It is well-known that birds make quite a mess when they feed. The shellings of the seeds end up on the floor, which means the constant need to clean up.
A debris guard installed on the bottom part of the cage may be of great use in this case.
The guard is supposed to keep debris from being spread all over, easing the workload of bird owners.
If the bottom tray of the cage is not deep enough, a debris guard may be a great feature to consider.
If you want to know about Harlequin Macaw before buying one for you, this article has all the information you need.
Would You Like The Cage To Open At The Top or Not?
This is an exciting feature to have in mind. A birdcage that can be opened at the top gives the birds more freedom.
That is if you allow them to fly around the room and if the birds are familiar enough with you and their living environment.
Usually, birds tend to return to their cage if they have the chance since that is where their food is.
But, if the birds are new to the cage or house, they may need some time for accommodation until they will feel comfortable enough to enjoy such escapes easily.
Frequently Asked Questions
How Large Should a Cage Be For a Budgie?
When buying a cage for budgies, remember that there are some minimum requirements to consider.
A budgie will feel comfortable in a space that is 19 inches high, 19 inches wide, and 19 inches deep.
However, try to exceed this minimum need since bigger is better for your birds. Also, budgies need horizontal space for flying, which is another factor to consider.
If you own more than one budgie, you will have to multiply the need for space mentioned earlier by the number of birds you have to obtain the minimum requirements.
Again, try to get a more giant cage for the birds.
Are Tall Cages Suitable For Budgies?
Tall cages can be suitable for budgies if they provide enough room for the bird to stretch its wings.
This should be achieved without the wings, the touching bird toys, stairs, or other accessories found inside the cage.
Ideally, you should choose a rectangular cage for your budgies. Round cages make budgies feel insecure since they don't have any corners to hide in if they sense dangers.
Is it Okay To Have More Than Two Budgies in The Same Cage?
Budgies are birds that live in the wild with large flocks, so they will enjoy the companionship of other birds.
Thus, having more than two birds in the same cage is okay if the cage is large enough to accommodate all birds.
Also, remember that budgies get along better with birds of the same age as their own. If you plan on buying more budgies, try to get birds that are of a similar age to avoid conflicts.
Last Thoughts
The best budgie cage is the cage that gives you all the features required to take good care of your birds.
It should be spacious, easy to clean and maneuver, and safe for the birds.
Always inspect a cage once it is assembled and check for any dangerous parts. Ensure you get a birdcage that is easy to clean, which will ease your life.
And, of course, ensure the birds have enough room to spread their wings quickly and even fly a little since exercising is recommended for a healthy life.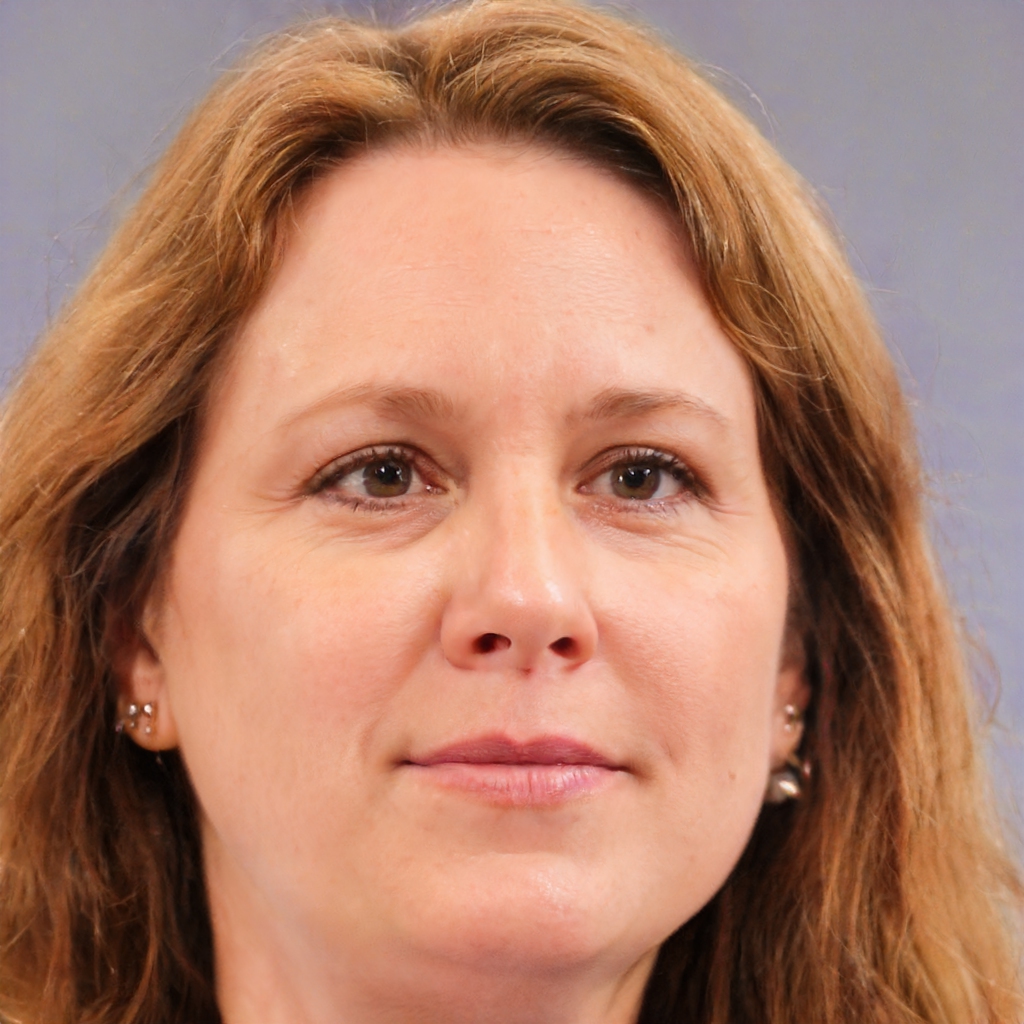 Hi, I'm Regina Rios. Just another bird lover who loves to share knowledge from personal experience. I've grown up with pet birds since childhood as my mommy also loves birds. As I can't pet many birds in open air in my house as my mom does; I created my first bird cage on my rooftop using wood, copper wire, and a metal shed in 2018 and start collecting pet birds. Now, I have so many pet birds such as Macaws, Parrot, Cockatiel, Parakeet, and others. Not only that, if I see natural birds are injured I keep them in my house until they get well. Now, my hobby becomes my income source as my home birds have babies and I sell them to birds lover like mine. I've created this blog to inspire others bird owners by sharing my personal knowledge. Good Luck!